Sign-up for our loyalty program here
High-Quality
Cannabis Pre-Rolls
in Sault Ste Marie, ON
Matchbox, Your Destination for High-Quality Pre-Rolls In Sault Ste. Marie, ON
Are you searching for the finest pre-rolls in Sault Ste. Marie, ON? Look no further than Matchbox Cannabis, your premier destination for premium cannabis pre-rolls. With our extensive selection, knowledgeable staff, and commitment to quality, we are dedicated to providing you with an unparalleled pre-roll experience.
Visit Matchbox Cannabis today and immerse yourself in a world of premium cannabis pre-rolls. Our friendly staff is eager to assist you in finding the perfect pre-roll to meet your desires. Discover the exceptional quality, diverse selection, and outstanding service that sets us apart as the leading pre-roll dispensary in Sault Ste. Marie, ON. Don't settle for anything less than the best—choose Matchbox for your pre-roll needs.
Contact us now at 705-575-9333 or 705-575-7222, or visit our cannabis shops in Sault Ste. Marie at Market Mall or 146 Queen St E to explore our current pre-roll menu and learn more about our services. Join our community of satisfied customers and experience the difference at Matchbox Cannabis.
We Have The Best Pre-Rolls Available in Sault Ste. Marie, ON
Good Supply Monkey Butter Pre-Roll
This $#!% is bananas! Monkey Butter is on the loose and someone should call animal control, because this indica is a beast high THC. It's nutty with earth and woodsy aromas thanks to the dominant terpenes of caryophyllene, cedrene and humulene. So quit your monkeying around and indulge in these light green buds with amber pistils that shimmer with milky trichomes. Because this cross of Gorilla Glue #4 x Peanut Butter Breath means business. Monkey business..
Strawberry N' Mintz Pre-Roll 3-Pack
MTL's Strawberry N' Mintz is a cross between Strawberry Guava and MTL'S Kush Mints. This Sativa dominant Hybrid has complex green flowers, interspersed with hints of fire orange and a thick layer of frosty trichomes. The main terpenes, Myrcene and Caryophyllene help deliver a fresh berry flavor on the inhale and an earthy, minty finish on the exhale. The most fished for Sativa of the summer season in a perfect 3 pack of pre-rolls
General Admission Infused Pre-Roll
Infused Pre-rolls are all the rage these days and no one is more popular than the General Admission joints. They are distillate infused with premium flower and dipped in kief for the ultimate THC punch. None are more hunted for in Ontario then TIGER BLOOD PRESENTS BERRY AND BLOOD ORANGE IN A RICH RED FRUIT PROFILE, AND A ROBUST AROMA AND A SUBTLE UNDERTONE OF COCONUT ON THE EXHALE FOR A UNIQUE FINISH. AVAILABLE IN 1 X 1 G / 3 X .5 G
Cold creek kush Pre-Roll 10-pack
Redees TM by Redecan are an unparalleled pre-roll experience. Thoughtfully designed in a unique straight-roll, Redees TMare personal sized at 0.4g and come in a 10-pack that's compact and convenient. A sativa dominant hybrid between the ever-popular MK Ultra and Chemdawg 91, Cold Creek Kush, or CCK, is a globally recognized strain, known for its light green hues, amber hairs, and trichrome-frosted flowers. CCK is a potent strain that tests with high THC levels. Cold Creek Kush is recognized for its dank smell, resembling a damp rainforest with notes of earth, wood, sour, and pine, giving a strong but fresh aroma and a dank, spicy, herbal flavor, informed by high levels of beta-pinene, nerolidol, trans-caryophyllene, and limonene. Just as with any Redecan Evergreen strain
Tribal Terple Pre-Roll
Tribal has been making huge waves in the Cannabis industry this year across Ontario and canada. Bring to the market some amazing weed. And no other is more great then the
Rolled up and ready to smoke, Pre-Rolls are Cuban Linx. This strain was bred by crossing TK Skunk and Trigerian. The result is a huge bud with a shape that resembles corn on the cob. With both parents being elevated in THC, it is no surprise that Cuban Linx provides a euphoric and full-bodied high. That's not all. Consistently bring a high thc and high terpenes. These pre-rolls for sure will give one a great experience.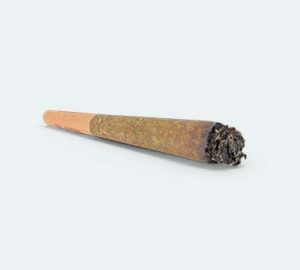 Learn More About Our Cannabis Pre-rolls In Sault Ste. Marie, ON
What is a cannabis pre-roll?
A cannabis pre-roll, also known as a joint, is a ready-to-smoke product that consists of ground cannabis flower rolled into a paper cone or cylinder shape. It is designed to be conveniently and easily consumed without the need for additional equipment or preparation.
How are your cannabis pre-rolls made?
Our cannabis pre-rolls are made by grinding the cannabis flower into a fine consistency and then rolling it into a paper cone or cylinder. Some of our pre-rolls are made using a combination of different cannabis strains, while others are made from a single strain. The joints are usually sealed with a twist or adhesive to keep the cannabis securely contained.
Cannabis pre-rolls are traditionally made with marijuana, which contains psychoactive compounds such as THC. However, there are also pre-rolls available that contain hemp flower, which have very low levels of THC and higher levels of CBD. These hemp pre-rolls are non-intoxicating and are primarily sought after for their potential therapeutic benefits.
What are the advantages of using cannabis pre-rolls?
Cannabis pre-rolls offer several advantages, including convenience, portability, and ease of use. They eliminate the need for grinding the flower and rolling it yourself, making them a convenient option for those who prefer not to prepare their own joints. Pre-rolls are also great for on-the-go consumption since they can be easily carried in a pocket or a small container.
How long do your cannabis pre-rolls stay fresh?
The freshness of our cannabis pre-rolls can vary depending on various factors such as storage conditions and the packaging used. At Matchbox Cannabis, we store them properly in an airtight container in a cool and dry place, so that they can retain their freshness for several weeks or even months. However, it's worth noting that over time, the potency and flavor of cannabis may gradually diminish.
How much cannabis is in your pre-rolls in Sault Ste. Marie?
Our cannabis pre-rolls contain between 0.5 to 2 grams of ground cannabis flower. However, some of our pre-rolls may contain smaller amounts, especially those designed for individual or micro-dosing purposes.
Are there any health risks associated with your cannabis pre-rolls?
Cannabis pre-rolls are an enjoyable and relatively safe method of consuming cannabis. But individuals with certain medical conditions or who are pregnant should consult with a healthcare professional before using cannabis pre-rolls. At Matchbox, we always advise to use cannabis responsibly and in moderation.
Matchbox is Sault Ste. Marie's favorite retailer of Pre-Rolls
Looking to get your hands on a CBD or THC pre-roll, but not sure where to start? At Matchbox Cannabis, we have a variety of high-quality cannabis pre-rolls for you to check out. We stock our selection with the best brands in Ontario at some of the best prices around.
Not all cannabis products offer the same level of quality. For every batch that provides an out-of-this-world experience, there are a few more that just aren't the right fit. That's why Matchbox Cannabis is dedicated to building a collection of premium CBD and THC pre-rolls sourced from the finest brands in Ontario.
Scroll through our entire selection, or use our filter options to find exactly what you need. The best part? We're bringing these products to you at affordable prices, so you don't have to break the bank to get top-quality cannabis. Start shopping now to save on all your favorite pre-rolls, and so much more!